Denso PowerEdge™ Passenger-Side Alternator
Denso has developed a new high amperage alternator for the Medium and Heavy Duty truck market that is smaller, lighter and more efficient than the industry competition. The PowerEdge™ offers these efficiencies in a smaller, more lightweight design, which translates into improved fuel economy.
In addition to improved efficiency and higher amps at idle, the Denso PowerEdge™ alternator can be up to 10 pounds lighter than the industry's competition. This means reduced fuel consumption over the long haul, which can save thousands of dollars per truck per year. The PowerEdge begins charging the batteries at 600 engine RPM as opposed to 1600 RPM for the competition.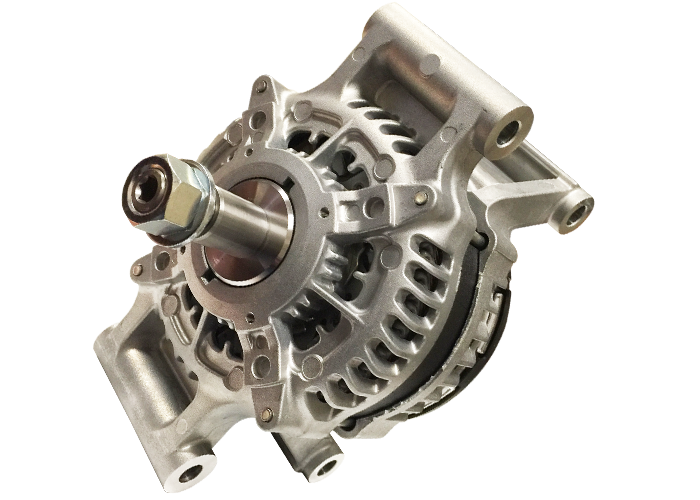 Additionally, these units are equipped with heavy duty bearings, advanced long-life brush composition, and remote sense technology to prolong battery life. Not only do these highly efficient alternators offer a small, lightweight design, but its compact size and weight offer fleet and truck technicians easier handling and installation.
The Denso PowerEdge™ Alternator provides 100 percent coverage for pad-mount applications and offers the following features and benefits:
• New. OEM. Passenger-Side. Not a substitute.
• Superior efficiency, providing reduced fuel consumption and mileage savings.
• Durability, long life, reducing replacement intervals and costs.
• Higher amps at idle.
• Remote sense features, prolongs battery life, reducing replacement costs.
• Compact size and lighter weight, for improved fuel savings and ease of installation.
• Three year manufacturer warranty - unlimited miles
Literature
Browse through the menu below to download information for the PowerEdge™ Alternator in PDF format:
To purchase a Denso PowerEdge™ Alternator, click here for the MurCal web store.