GENSYS Compact Mains
All-In-One Generator Controller & Mains Paralleling Unit
The GENSYS Compact Mains generator controller is designed for standby applications and is primarily used on standalone gensets in mains paralleling applications. This new generation of controller is easy to use and benefits from years of CRE Technology experience in permanent paralleling, automatic mains failure detection or no break transfers. It's able to manage diesel or gas engine start and stop sequences, as well as interfacing with auto-start controllers and ECUs, using I/Os or the J1939 CANbus protocol.
This is a fully compatible module with speed governors, automatic voltage regulators (AVR's) and J1939 communication with electronic engines. It offers isolated speed and AVR outputs along with three (3) isolated communication ports: two (2) for CANbus, and one (1) for Ethernet. Necessary functions include:
• Manual or automatic generator control
• Automatic start/stop depending on mains failure or external request
• kW peak shaving or kW base load mains paralleling with PF control
• Automatic frequency & phase synchronization (differential frequency meter + synchroscope)
• Engine parameters: oil pressure, water temperature, speed, and hour meter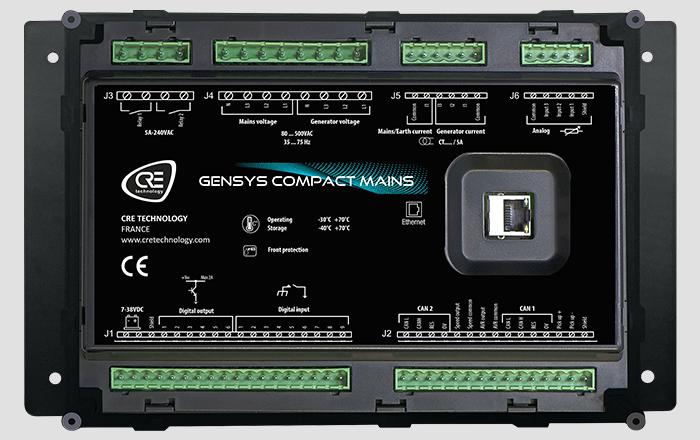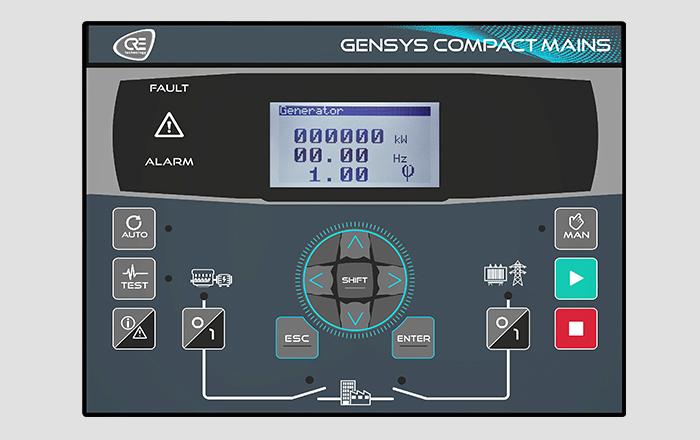 The Compact Mains is available in both switchboard panel mounted version with display, or core base mounted version. It's also compatible with the i4GEN touchscreen color display. This model is configurable from its front panel display, from i4GEN, or through the free CRE software. It offers flexibility and time savings thanks to its simple wiring, full feature set, thoughtful engineering and easy programming.
Features:
• Complete engine control of diesel, gasoline or gas gensets (preheating, pre-glow, ignition, start/stop)
• Alternative or consecutive multiple starter management
• Warmup & cool down at idle or nominal speed
• Remote start and test mode available ON/OFF load
• Compatible with all J1939 electronic engines
• Mains failure detection and No Break changeover with adjustable load transfer time and paralleling time
• Possibility of operator mains transfer validation (G59)
• Mains permanent paralleling in fix load and PF control. Isochronous & iso-voltage or droop mode
• Frequency and voltage control, compensation for generators with droop governors and/or AVR/DVR
• Synchronization: Frequency, Phase & Voltage synchronization (Synch display available on screen)
• New optimized PID loop with exceptional performance in synchronization, KW and KVAR control
• Override mode (protections inhibition + dedicated hour meter) following NFE 37-312 certification
• Non-essential load control on overload
• Battery boost management
• Configurable maintenance cycle
• Two password levels
Literature
Browse through the menu below to download information for the GENSYS Compact Mains Generator Controller in PDF format: