BPS 63 Series Weatherproof DC Battery Power System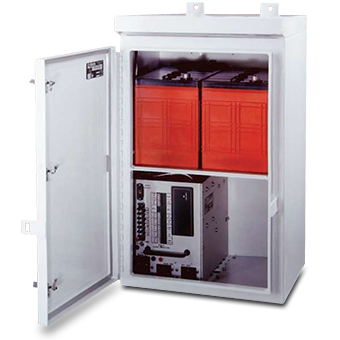 AC Input:
Selectable 115/230 VAC, 50/60 Hz, standard, single-phase input
Charger Output:
100% to 105% of rated current, constant voltage
Indication:
Test points for voltage and output current, LED indicators for status of modes
Environmental:
-10°C to +50°C operating temperature, 5% to 95% humidity
SENS BPS 63 is a factory packaged DC battery power system that provides non-stop DC power to critical loads. The non-corroding, weatherproof cabinet eliminates the need for equipment shelters. SENS BPS 63 is specified and used in a wide variety of applications including communications, SCADA, process control and switchgear backup by wireless communication providers, oil companies, industrial manufacturers, utilities and government entities.
Complete, Non-Stop DC Power in a Compact Package
Features:

• Applications - PCS repeaters, SCADA, process control, utilities

• Outdoor cabinet - eliminates the need for an equipment shelter

• Single system responsibility - includes charger, battery, low volt disconnect

• Temperature compensated charging - gives longest battery life

• Filtered DC output - is ideal for electronic loads

• Standard alarm system - provides complete status on charger and battery
Availability of Models
There are several models available that are not shown in the MurCal web store. Please review the Product Sales Bulletin for a listing of all the possible system configurations for this model. The image below shows the available options. Contact us with questions or to place an order.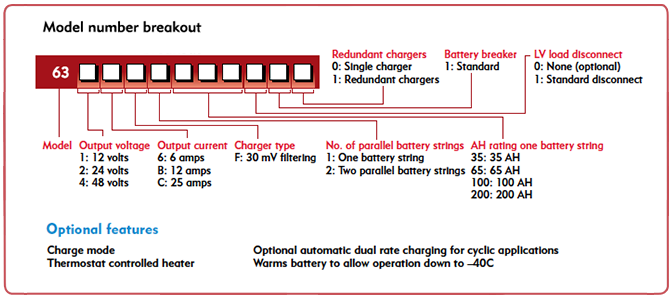 Literature
Browse through the menu below to download information for the BPS 63 Series in PDF format: